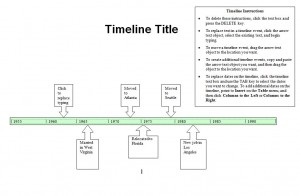 There are many reasons to want to keep track of dates. The easiest way to do so in a visually pleasing way is to create a timeline. We may not always know where to start so a good thing to use is a Timeline Template.
A Timeline Template can be used for many purposes. You'll find children can either use this for their school projects or use it as a study guide in their Social Studies classes. A person who is working on their family lineage may want to include a timeline graph as a part of a presentation slideshow they are giving.
One can also use a timeline to show the personal events in your life. You can even use a timeline to organize yourself. For instance, if you are working on a personal project you can input milestone dates and give brief descriptions.
How to Use the Timeline Template Word Document
The Timeline Template is an easy Word template to navigate through.
You can download this free and customizable Word template here.
Once you have the template open you'll find a set of instructions embedded in the object. You are free to delete this at any time selecting the text box and hitting the "Delete" or "Backspace" key on your keyboard. To keep the instructions you can cut and paste it into another document.
First, start with your timeline dates. You will simply double click over the current date and type over it. It's originally set for eight blocks of dates. You can use just the years or add a full date.
Next, you can update the timeline events. Where the arrow is, select the text and type over it.
Tips for Using the Timeline Template Word Document
As mentioned, this template is customizable so you can add more blocks. To do so, right click with your mouse where you'd like to add the additional date. Select "Insert" and choose "Columns to the Right" or "Columns to the Left".
You may find that you need to move your timeline events. Select the arrow box and move accordingly.
For children reports feel free to input pictures or clip art.
The Timeline Template Word document is a great way to start organizing your time and keep track of your history.
Download: Timeline Template
X
Your free template will download in
5 seconds
.
Check this out while you wait!