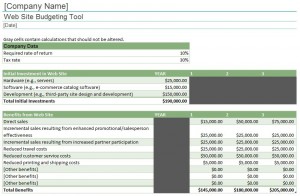 Whether your website is for business or a hobby, keeping it running and in good shape is an important part of managing your website. Our Website Evaluation Checklist will help you project and set a budget for your website. It will also help keep you organized and on task. You can estimate what your expenses and development costs will be to continue to build your website and readership. As you grow and develop your website, using our Website Evaluation Checklist will help you build and maintain your site and help grow the profits you make from your website.
How to Use the Website Evaluation Checklist
If there are other people who work on your website, be sure to go over the Website Evaluation Checklist with everyone involved in developing and maintaining the website.
Print the checklist free of charge right here from our website.
You can also download the checklist right to your computer.
Once downloaded, you can customize the checklist so that it will work for you website's goals and needs.
The checklist is very easy to use and navigate.
Tips for Using the Website Evaluation Checklist
Decide what your goals are for your website. This will help you evaluate what needs to be done and spent to achieve those goals.
Know what equipment you are going to need to make your website successful.
If you are selling something, know what your profit margins are on that item.
Make a plan on how you are going to maximize revenue and bring readers to your website.
Figure out how much money you have to spend on your website development.
Keep the checklist in an easy to find location, so you can update and add numbers to the checklist as you grow and earn more from your efforts.
Our Website Evaluation Checklist can help you evaluate the health and financial stability of your website. The checklist can help you weigh the pros and cons of purchasing and investing in certain types of improvements and developments for your website. Our checklist will help you grow your website and keep it financially sound.
Download: Website Evaluation Checklist
X
Your free template will download in
5 seconds
.
Check this out while you wait!