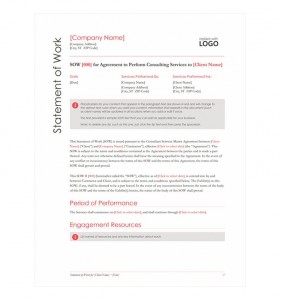 Ever needed a contractor or an independent worker to get a job done for your business? Perhaps you are hiring someone on a short term contract with a specific set of tasks that must be completed. Either way, it is important to have a statement of work sheet drawn up when such a situation arises. While many people forget to sign a formal agreement between the two parties, it is important that you do not make the same mistake. A Statement of Work Template can help you formulate the basics of this agreement, and it will ensure that both parties know what their roles are.
Using the Statement of Work Template
The best way to use a Statement of Work Template is to get your rough ideas in place before you delve into what has already been written. Once you have created a set of sentences that you want in the Statement of Work Template, you can take a look at what is already there.
The original Statement of Work template is fairly straightforward. It contains the Company Name on the top, along with the address and phone numbers of the company. The right hand area has text which you can replace with the company logo. The Statement of Work template will state that this is an agreement between two parties to perform certain tasks during a set period of time. The date is highlighted, in addition to the full details about who is performing services and who is receiving services.
The bottom portion of the template will highlight the period of performance and any resources that may be used during this period. Both parties must sign the document, and it is a good idea to have one or two witnesses sign as well. Not only does this ensure the legality of the document, but it gives both parties peace of mind that they have done everything in the proper manner.
There are a couple of paragraphs in the template that can be used to highlight what work is being done as per the terms of the agreement. For example, the Statement of Work template could highlight how much money is owed for services provided, in addition to any overtime pay or bonuses. It is also a good idea to write down steps that either party can take if one does not live up to their end of the agreement. This is a good way to ensure that a partnership does not break down and end up in court.
Download: Statement of Work Template
X
Your free template will download in
5 seconds
.
Check this out while you wait!