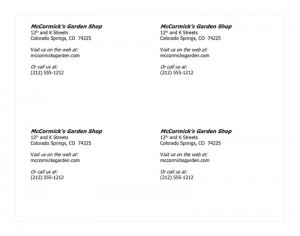 The best way for small or growing businesses to gain more attention is to continue to find new ways to promote their services. By using creative and sophisticated notices, businesses and business people can broaden their clientele exponentially. The Special Offer template gives businesses the edge of an impressive and professional marketing tool that is both eye catching and gets people interested in the company and product. The Special Offer template is a tool that all smart businesses must have access to, because the language "special" appeals to all people, and when such offers are happening, businesses want to be able to deliver information on when and where as fast as possible.
Using the Special Offer Template
The Special Offer template allows businesses to be able to create immediate notices that take only minutes to create and customize. By choosing the link from this page, users can have the Special Offer template for free. With Word 2003 or a later version installed on the computer, users can immediately begin using the program right from their laptop or PC without the hassle. What's more, the Special Offer template allows for quick and easy printing: simply complete the template instructions and duplicate as many cards as needed, and save to a special folder for a later date.
Here's what you need to know to get started:
The Special cards are to be printed on 4.25″ by 5.5″ paper for print.
Each sheet prints up to four cards for immediate use, which is why it is important to keep all sheets on file for further duplication.
Fill in the card with the company name, address, and preferred phone number. Adding a web site address really helps gain more attention.
Use a font that best represents the product or business type.
Use as the back of a promotional card, which should have a bold picture of what the item or special offer is. If not, use a bold picture of the holiday occasion ( Christmas, July 4th, Halloween, etc) to grab the attention of potential buyers.
Once completed, users can use the same template to create all sorts of special occasion offers, promotional deals, seasonal openings, or market other catering services that they have to offer. Special cards are great to have in the store at the counter, to slip into the buyer's shopping bags, or to hand passerby outside the store front.
Download: Special Offer Template
X
Your free template will download in
5 seconds
.
Check this out while you wait!