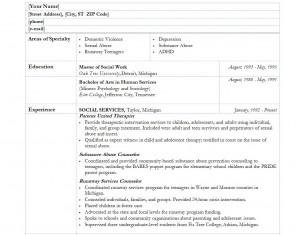 The Social Worker Resume Template will create a formatted resume that is specifically tailored towards gaining a position as a social worker. With this template, a professional looking resume can be printed in your own office or home.
How to Use the Social Worker Resume Template
Download the Social Worker Resume Template from this website for free.
Open the template document in Microsoft Word and save it with a file name that includes your last name and the date, or another file name that you can retrieve easily.
Click and fill in the fields available with information about you, your work experience and contact information. The Social Worker Resume Template is customizable for your needs.
Tips for Using the Social Worker Resume Template
Click and fill in your contact information at the top. It is surprising how many job hunters forget to do this!
Next, fill in your educational background and degrees earned, and any other training you have.
Next, list your areas of expertise; issues or populations you have experience with or have been trained to work with.
After you fill in your position and place of employment, use action verbs to indicate your accomplishments at each job. Some examples of action verbs for social workers are: advocated, arranged, composed, demonstrated, developed, implemented, motivated, organized, participated, and utilized.
When listing accomplishments, use numbers which quantify what you've achieved. A social worker could indicated number of groups run per week, amount of funds raised, or number of population reached in a given amount of time.
Depending on the position you're applying for, you may wish to indicate any administrative or budgeting experience you have, and the software you used. Hiring managers use keyword software that searches electronic resumes for certain words, especially software programs, like Word or Excel.
Community service and volunteer work is an important section for this type of resume. Many non-profit organizations look for employees with a sense of community and participation.
Remember to double-check for spelling and grammar.
If you would like to submit your resume physically, be sure print your resume on bond paper with a laser printer.
Download: Social Worker Resume Template
X
Your free template will download in
5 seconds
.
Check this out while you wait!