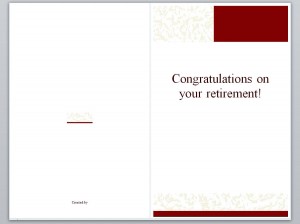 Have you ever forgotten to get one of those cards that everyone signs on one of those days that will live forever in your mind, like the retirement of your co-worker? Not to worry, the Retirement Card Template for Microsoft Word is up to the task of making your co-worker's last day a merry one. And after all, who wants to waste money on a card when you could save up for a party that will be remembered forever. The Retirement Card Template for Microsoft Word is elegant, simple, inexpensive, and easily customized. The Retirement Card Template can be downloaded for free from this page.
How to Use the Retirement Card Template
Open the Retirement Card Template and enter the custom information that you plan to add in the text areas. You should probably add the persons name, the occasion, and perhaps some kind of official sentiments.
Open a separate word document and write down the names of everyone that you work with who is not the person that is retiring. Add instructions at the top that tell the person that has just signed the document to find someone on the list that hasn't signed yet and give the folder to them.
Print both documents and then fold the card down to the proper size. Put in a manila folder and take to the first person who hasn't signed. You might tell them to tell the last person to bring it back to you and see if your message survives a chain of several co-workers.
Tips for Using the Retirement Card Template
If the person that you worked with is much loved and has a great sense of humor, you might create a personalized humorous theme for the card.
Consider printing the template on a larger sheet of paper if you have a lot of employees that are involved with signing it.
Encourage people to actually write something because they often just sign it and then the person who retires wonders if they actually wanted to say something but didn't.
Download: Retirement Card Template
X
Your free template will download in
5 seconds
.
Check this out while you wait!