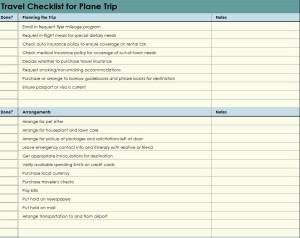 When planning for a trip, it is easy to overlook many small details such as calling the pet sitter or getting frequent flyer miles. Now there is a Plane Trip Checklist template that you can download that can help you to plan that airplane trip; the Plane Trip Checklist template is available for free on this page. Customizable, it is an easy-to-use template, and it can be downloaded easily here.
Using the Plane Trip Checklist
Using the Plane Trip Checklist template is fairly easy; simply print it and check off the areas that apply. The great thing about this template is that you can pick and choose which tasks to do. You may not have a pet, so you can write N/A on that block since it is not applicable, and then you can move on to the next checklist item.
Prioritizing is a good idea when taking an airplane trip. Getting the passports in order is essential and can take time, so you may wish to do that first. Calling the pet sitter needs to occur early as well. Splitting the tasks down or sorting them by time works–early, middle, end. That way, you can achieve them on a tier-level. Once the early tier work is done, you can move to the middle or do them simultaneously.
Planning for an airplane trip just takes time and effort, which this Plane Trip Checklist template can help with. Knowing when to buy the tickets, how to dress, what to expect and pack: These make a difference in terms of stress levels, enjoyment, and efficiency for the experience. The first step is to buy the tickets. If you're reading this, you already did that, so now the steps are to get ready to board the plane. Thinking ahead helps very much; avoiding those heels and thinking about packing them instead is also practical and can help you to avoid discomfort that day since you may need to walk briskly to make the gate and boarding.
We are pleased to offer you this Plane Trip Checklist template, available for free, on this page for downloading. It is designed to help make life easier, to help you to get organized, and to think ahead about an important day and how to make it go easier on the whole.
Download: Plane Trip Checklist
X
Your free template will download in
5 seconds
.
Check this out while you wait!