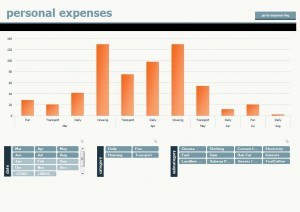 The Microsoft personal expense calculator is the perfect template for anyone looking for a better way of keeping track of their daily, weekly and monthly expenses. This free template was designed with the user in mind, and can be accessed instantly by clicking on the link available on this page.
Get in control of your finances with the Microsoft personal expense calculator from TemplateHaven.com today!
How to Use the Microsoft Personal Expense Calculator
The personal expense calculator could not be an easier to use and comes in the form of a Microsoft Excel spreadsheet. The first step in using the template is to set up your categories and subcategories for personal expenses. You can access this page of the template by clicking on the tab titled "Category Setup" at the bottom of the spreadsheet. Your main categories will include your main expenses, such as housing, daily expenses, transportation costs and entertainment/fun activities.
Your subcategories will go underneath the main categories. For instance, under "Daily Expenses", you can list things such as:
Food
Hair Cut
Medication
Coffee
Clothing
Tuition
You will continue to list subcategories until all of your personal expenses have been added to the template.
Once completed, you can move on to the "Expense Log" tab of the personal expenses template. Here is where you will total all of your expenses for a given month. For example, if you spend $54.00 on gas, you will add the date you purchased it, add the transportation category with the subcategory of "gas" and the amount you spent. You can also add special notes about the purchase if necessary. Once all of your expenses have been added, you can move on to the "Dashboard" tab of the personal expenses template.
The dashboard will show you all of your expenses in an easy-to-read and understand bar graph. It will detail all expenses by date, category or subcategory and display how much money you've spent on each. This graph gives you a clear view of where your money is going and where you may be able to save some extra cash.
Get the Microsoft Personal Expense Calculator for Free Today!
Properly managing your personal expenses is one of the best things a personal can do to alleviate stress and have a better quality of life. It's easy to track everything with the personal expense calculator from Microsoft. Download the Microsoft personal expense calculator at no charge from TemplateHaven.com today!
Download: Personal Expense Calculator
X
Your free template will download in
5 seconds
.
Check this out while you wait!