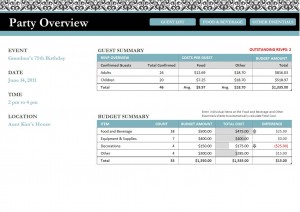 Everyone loves a great party. Sometimes your event planning may not be as organized as you thought. The Party Planner Template will start your event off right. This is one of the most interactive, customizable and free planning templates that you will come across.
How to Use the Party Planner Template
This template is so detailed and well designed. It almost acts as a database rather than a Party Planner Template. Although there are many great features to this template, it's quite easy to use. On the initial tab input your event details such as the Event, Data, Time, and Location.
The first section is a summary of all of the important data compiled from the following tabs. It gives you a comprehensive overview of your guest's summary, including confirmed RSVP list and a total budgeted amount. This is split between the adults and children's list. Below would be the budget summary covering categories such as food, beverages and decorations. This section sums up your defined budgeted amount and compares it to the actual cost showing your difference.
Your next tab is for your Guest Lists. Here is where you input all of your guests contact information. Your RSVP data stems from here as you'll select from the drop down menu if they are attending or not along with the total count.
Next is your standard Food and Beverage tab where you will list your party foods. You input the total cost and how many servings per adult and child. The Party Planner Template automatically calculates the serving's breakdown. You can make additional notes for each item.
This next sheet is Other Essentials listing out the supplies and decorations and other items such as party favors and photographer. This is like your checklist of purchased items.
The final section is a Seating Arrangement Grid that you can print and arrange your guests seating charts. It even gives a convenient table setup chart.
Tips for Using the Party Planner Template
On the party overview page you can jump to another page such as the guest list, the food and beverage page, and the other essentials tab from the Party Planner menu option.
You will also see your outstanding RSVP's on the Summary Page.
This customizable template allows color, font, and design changes.
This fun and organized Party Planner Template will make you look like an impressive party planner.
Download: Party Planner Template
X
Your free template will download in
5 seconds
.
Check this out while you wait!