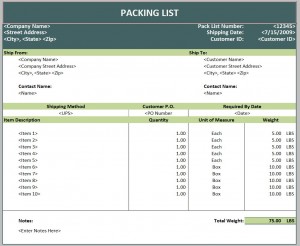 Business efficiency is most achieved with organization, which leads to profit. If you're in a business that involves the frequent shipping of items, you'll want to include a packing list within all shipments made. This is the most professional and easy way to avoid hassles when making business transactions that involve shipping. We have provided to you a free customizable, easy-to-use packing list template to help keep you organized, which you can download right here by following the link. Its customizable features allow for it to easily suit your personal business shipment needs.
Free, Easy-to-Use Customizable Packing List Template
Use efficiency and organization to lead to business profit
Stay organized with your shipping orders
Downloadable Customizable free shipping template
Steps and tips to using your shipping template
How to Use the Customizable Packing List Template
After downloading the template, fill out the standard company information in the template and save the file. Be sure to include your company logo, address, phone number(s) and email address. Consider including your company slogan or mission statement.
After your standard information has been saved to the form, include the shipping details specific to the order. This commonly includes the packing list number, shipment date, customer ID, shipment address information for both the sender and receiver.
Next record the details of the contents of the shipment, including the description, quantity, unit of measure and weight, and perhaps the total shipping costs. Record totals at the bottom.
Tips for Using the Customizable Packing List Template
You may want to include a message of gratitude along the bottom of your packing list template, informing the receiver you are grateful for the business.
Include notes within the notes section of the template. These could include any sort of shipment or product details specific to the order, &/or details about returns, exchanges &/or shipping insurance relevant to the package.
Save your packing list template for each shipment. Backing up this information and ensuring it's easily accessible can help you when there are questions about a shipment.
Efficiency leads to profit. Stay organized with our free packing list template in order to avoid unnecessary shipment hassles.
Download: Packing List Template
X
Your free template will download in
5 seconds
.
Check this out while you wait!