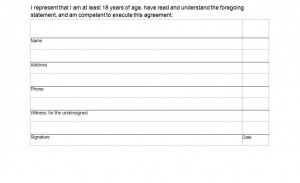 Are you a photographer planning to take pictures, make a video or audio recording of people? Then the best way to avoid running into any usage problems is by having the person or model sign a release form for media recordings. By using a media release form template, you can easily customize details for each person that will be in any photos, videos or audio recordings. A signed form permits you to use the photos or other media in your present or future work with no further notice necessary.
The media release form template is available for download free on this page. It is compatible with Microsoft Word 2013.
How to Use the Media Release Form Template
Download the template to your computer and save it. Find the file and open it to start customizing it with the information you want. There are six text areas in parentheses that you can highlight and enter the details necessary.
First entry is for the photographer's name. Enter the name of the person who will be taking all the pictures, making the videos or audio recordings.
Second is the start date. Type the exact date the media recordings will begin.
Third is the end date. Here goes the date that all media recordings will stop.
The fourth entry is the purpose you will be using the media. Enter here the plans you have for the photos, videos or audio recordings.
In the fifth and sixth parentheses you enter the photographer's name again.
Tips for Using the Media Release Form Template
The template has additional space below the signature area. You can enter further details about the project like, the materials that will be used for example backgrounds props or locations where the recordings will be done and names of other people in the project.
Once the form has been signed give a copy to the person and scan original to save on your computer. This is helpful if you misplace the original form.
Getting permission to use any form of media of any people or model can help you avoid liabilities and the signed form serves as proof that you have been allowed to use the media recordings for your present or future work. By having the media release form template handy you can use it on many more projects and it is easy to customize every time.
Download: Media Release Form Template
X
Your free template will download in
5 seconds
.
Check this out while you wait!