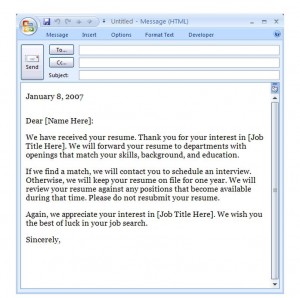 The Fully Customizable Interview Conformation Email Template
When replying to job candidates about future interviews, it can help to have an Interview Confirmation Email Template. There is one available for download here that is easy to use and can be customized to your own company.
How to Use the Microsoft Outlook Interview Confirmation Email Template
After you have received a job candidates resume and wish to have an interview with them, you can use this Interview Confirmation Email Template to speed up the process and give your company a professional look. The first thing to add is the candidates email address and a subject that reflects the email being sent. Interview Confirmation is a good subject to let them know what the email is about. After that the top of the email states the current date. Delete the January 8, 2007 and enter the appropriate date.
The heading of the email needs to contain the prospective employee's name. Enter that where the template has [Name Here]. In the first paragraph, the only data that needs entered is the job title they were applying for and that they are going to be interviewed for. This data is entered where the template has [Job Title Here] in the body's first paragraph and the last. At the bottom put your name and your email is ready to go out.
Tips on Using the Microsoft Outlook Interview Confirmation Email Template
If there is any information you want to add or update in the email template feel free. Just delete unwanted parts and type what you feel needs to be expressed. Make sure to use proper English and good grammar. If you want to save the changes that you make in the template, you can save a copy in you drafts folder to use again later.
You may want to add your companies name and web page to the email so the person receiving it knows which company that they applied to is contacting them. You should probably even enter this in the subject line along with Interview Confirmation. Feel free to customize this template any way you wish to make it suit your company well.
The Interview Confirmation Email Template available for free on this page is easy to use and fully customizable. Download it today and try it out to see if it is what you are looking for.
Download: Interview Confirmation Email Template
X
Your free template will download in
5 seconds
.
Check this out while you wait!