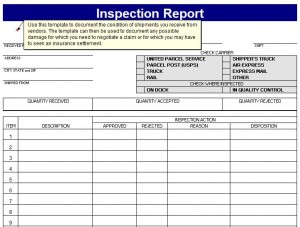 Assessing the condition of deliveries is an important step in the receiving process for your business, and accepting damaged goods costs your business money. Utilizing this free downloadable Inspection Checklist for each delivery helps prevent the acceptance of damaged merchandise.
Steps in Using the Inspection Checklist
Download your free copy from this site and save the checklist to your computer for future reference.

Enter include vendor name, address, and where the shipment originated in the upper left hand column.

In the upper right hand fields enter the date and time of the shipment, check the appropriate box next to the carrier name, and the location the inspection took place.

Fill in the middle section of the Inspection Checklist beginning with the areas labeled "Quantity Received", "Quantity Accepted", and "Quantity Rejected".

Next, enter information pertaining to each item on the shipment including description of merchandise, whether item was accepted or rejected, the reason for rejection, and the final disposition of the item.

The final step to a completed checklist is the names of the inspector and the person responsible for the final approval.
Inspection Checklist Tips
Customize each field to suit your business needs by clicking in the cell you wish to customize and typing your desired information.

The carrier fields are customizable to reflect the available delivery carriers in your specific area. Simply click in the cell, type your information, and click save.

To add additional lines, click in the cell where you need to add a line then right click and choose whether you want a new line inserted above or below the current line.

To insure damaged goods are easily located on Inspection Checklist, consider filling the damaged goods cells with a bright color.

Save a blank, unaltered copy of the free checklist before making changes. This will insure you have a fresh copy available to customize if your business needs or vendors change.
Save your business time, money, and the hassle of returning damaged goods by downloading your free Inspection Checklist from this page today. This convenient checklist is a valuable tool for your business and helps streamline the receiving process.
Download: Inspection Checklist
X
Your free template will download in
5 seconds
.
Check this out while you wait!