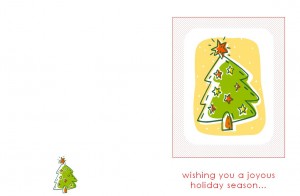 When it is time for the holidays, you might find that connecting with people becomes something very important to do. However, much like everything these days it seems, greeting cards can get a little bit expensive to purchase for each individual person you want to share a holiday wish with. So an approach that will save you both time and money would be to download a holiday greeting card template.
Holiday Greeting Card Template Options
When you are mulling over this approach, you should consider a few key points that might convince you that this is a great option for you. The first of these would be that this holiday greeting card template is a very easy to use option that you can customize however you want to. This means that you are going to be able to modify it to suit each person that it is getting sent out to. Better still, that very template is available right here on this page for you to download.
So now is the general information about how to make the most out of this holiday greeting card template so that it fulfills your needs completely. First and foremost, you can look at this as a time saving option, as you are able to modify each version of this template with text to make it personalized for the intended recipient. This will save your hand from cramping up from hand writing all of the individual cards as you might have done in years past.
Furthermore, you are going to appreciate that this holiday greeting card template will print out in a simple format that folds over in half and fits easily into standard greeting card sized envelopes. This is something that is unique to templates like this because many other options, even some of the paid ones, require you to have to cut and slice out the shape of the card and this can get as tiresome as writing out all the cards would have been. So know that this particular template is easy as one two three: print, fold and send.
So taking all of this into account, wouldn't it be nice to save yourself a little bit of valuable time around the holiday season by simply downloading this holiday greeting card template? It is available right here for free, so do not miss out on this opportunity to make your life a little bit easier.
Download: Holiday Greeting Card Template
X
Your free template will download in
5 seconds
.
Check this out while you wait!