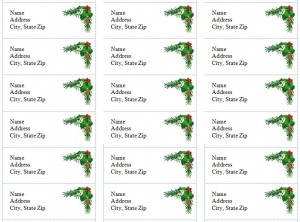 When the holiday season comes around, many people want to send out holiday cards to friends and family. This simple task can be time consuming with the time it takes to sign the holiday cards and address each envelope, especially if you have numerous cards to send. Holiday address labels can help save you time by making it so you don't have to hand write the return address on every envelope.
By using a holiday address labels template you only have to enter the return address one time and then just use the labels instead of having to hand write the address on every envelope. By using address labels, you also get a festive picture by your address that you wouldn't get with a hand-written address.
How to use a Holiday Address Labels Template
First, download the customizable Holiday Address Labels template for free.
Second, fill in your return address on the first label. By replacing place holder words with the correct information. For example replace "name" with your name or your family name.
Third, watch the template fill in the rest of the labels for you.
Fourth, print your labels on the correct size label sheet.
Fifth put your labels on your envelopes.
Tips for using a Holiday Address Labels Template
Make sure your address is correct on the first label. Remember it will repeat the same on every label afterwards.
Print a test sheet on regular paper first to make sure everything prints how you want it to before you print onto your label sheet.
Make sure you have the correct label size paper or your labels will not line up correctly.
Holiday cards are not the only thing you can use these labels on use them on any mail you send around the holidays to add a festive touch.
Use color ink when print for the most festive look to your labels.
Use extra labels to seal the backs of your envelopes.
Enjoy the time you saved with your free Holiday address labels.
Download: Holiday Address Labels
X
Your free template will download in
5 seconds
.
Check this out while you wait!