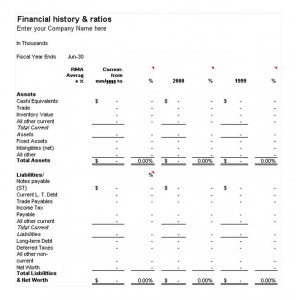 The ability to determine how an organization is doing financially at any given time, using financial history and ratios templates, is a skill set well worth having. The availability of Excel templates to speed up this analysis is a great tool to utilize in achieving more accurate and professional looking results. Get a financial history and ratios template for free on this page today!
Benefits of Financial History and Ratios Templates
The financial history and ratios template is available for free
The template can be customized for any business or organization
Even if you are not familiar with Excel, the template is extremely easy to use
Making revisions and performing "what ifs" can be done efficiently
Templates maintain an across-the-board appearance of professionalism
Tips for Using Financial History and Ratio Templates
Here are a few tips to keep in mind for use with Excel templates. These will not only make the process easier but will save you time in the process.
Save your work – often. This one tip in itself cannot be stressed enough. Nothing is more frustrating than creating a well-crafted document and loosing it after a power outage or computer glitch.
Maintain a system of organization. This will enable you to find a document quickly and efficiently.
Keep your Excel program up to date. Set up your PC to perform scheduled updates, this way you can be certain that you have access to all the latest features in Excel. You can do this manually by accessing the Windows key in the top left corner of your screen, clicking Word Options at the bottom of the pop-up box, choosing Resources from the list on the next pop-up screen, and then clicking Check for Update.
Learn to use the Help feature in Excel. You can access Help using the F1 key.The financial history and ratios template is going to create documents that contain very sensitive company information. Set password protection on the file. To do this, access the Windows key in the top left corner of your screen, click on Save As, choose your destination, click Tools at the bottom of the pop-up box, and click on General Options from the menu list. You will then be prompted to enter a password. Make sure you choose a password that cannot be easily guessed such as your name, your spouse, your favorite sports team, birthday, etc.
This brief discussion of using a financial history and ratios template in Excel will have you producing top-notch documents before you know it.
Download: Financial History and Ratios Template
X
Your free template will download in
5 seconds
.
Check this out while you wait!