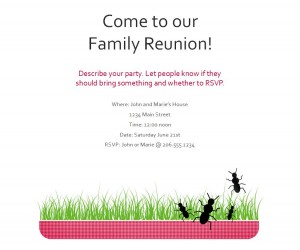 As families get bigger they tend to grow apart. A lot of families only get to see each other at various times of the year and attending a family reunion can become a necessity for everyone to spend time together. Planning a family reunion can be a very daunting task, especially if you have a big family. Take a little of the burden off yourself by downloading this easy to use and free template of a Family Reunion Flyer to send to guests.
A well laid out flyer can not only save you time and money but will show your family that you are planning a fun and engaging family reunion for your loved ones. The Family Reunion Flyer is set up in a fun summer theme and includes space to describe your event as well as space for all the information your family will need to arrive to the party on time and ready for fun.
How to Use the Family Reunion Flyer Template
Click on the download button to get the template for free from Microsoft Publisher, this should only take a few minutes. The template runs on Microsoft publisher 2007 or later.
When the Family Reunion Flyer pops up in your publisher, click on the body of the text, delete the sample words and customize the flyer with your own information.
The template is easy-to-use and allows you to add a unique description of your party, where the party will be, when (time and date) and anything else that you might want to add.
Tips for Using the Family Reunion Flyer Template
Create a description for your flyer that is special for your family. Include the highlights that you are planning for the party, who will be there, and what family members can bring.
Consider adding an old family photo to the description. A photo from a past reunion will remind everyone of how much fun the last party was.
Include an RSVP phone number and name so you can plan for numbers of guests as well. You might consider having guests call only if they can't attend, with regrets.
Family reunions can be exciting and rewarding events, but they don't have to be difficult. Get started on your party with this unique easy-to-use Family Reunion Flyer to make your event even more memorable and successful.
Download: Family Reunion Flyer Template
X
Your free template will download in
5 seconds
.
Check this out while you wait!