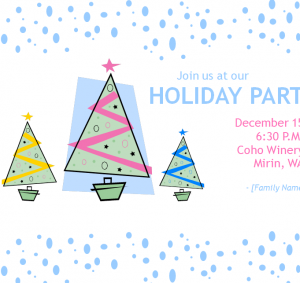 The holidays are a great time to throw parties, but the best way to start your party this year is with the Family Holiday Invitations template. This template is designed for you to quickly and easily enter your event details and print the document to send to all your friends and family. This is a simple and efficient way to gather all our loved ones under your roof for the holiday season! Just write a quick introduction to your event and the template will guide you through all the information required to send these out into the world. Spread some holiday joy this year with these festive invitations!
Family Holiday Invitations Guide
The Family Invitations template is designed to make your life easier and relieve you of any holiday stress this year.
This template is also easily customizable, so you can add your own pictures to the card. To do this, just click the "Insert" tab at the top of the screen and select "Picture" from the menu. Feel free to change any of the fonts from the "Home" tab as well.
The first thing that you'll want to do is write the title of your message. This is the section that will catch your recipient's eye first, so make sure it's informative and important.
The next section of the template is to enter the specific details of your event, such as the address, date, time, and your name. You can also add a quick ending note after this information if you'd like.
When everything is ready, simply click the "File" button and press "Print". These invitations are a great way to start off your celebration, not only do they put everyone in the holiday spirit, but they're also free!
Reason to use the Family Holiday Invitations
You want to make an impression this holiday season. After all, this is the season to spend time with everyone you know and love. These Holiday Invitations are just a fun way to efficiently do that. Save some time and money this holiday season, so you can spend it on the people you love. Make someone smile this holiday season by downloading this template for free!
Invite your loved ones with these holiday invitations!
Download: Family Holiday Invitations
X
Your free template will download in
5 seconds
.
Check this out while you wait!