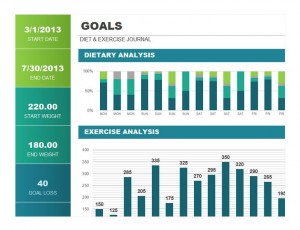 When it comes to taking the time to get back into shape, most people can really benefit from getting organized. This is less difficult to do when you are using a diet and exercise tracker template. Fortunately for you, this template is available for free on this very page. This template is easy to use, and helps you to keep track of all the important aspects of your reformation.
Using the Diet and Exercise Tracker Template
So what makes this particular template such a hot commodity when it comes to losing weight and getting into shape? Well it really begins with the simplicity of the use of the diet and exercise tracker. This allows you to keep track of real time results as you accomplish them, making your entire diet and exercise process much simpler to chronicle and monitor.
This template is constructed to help you achieve an initial goal that you set for yourself. The objective here is to input a time frame into the documentation, complete with an intended weight loss goal. From here, you are meant to take a day by day breakdown of filling out pertinent information about your dietary choices as well as the exercising that you are completing in order to stay under your recommended calorie amounts for a week.
If you are unsure of what is a good objective, most dieticians have suggested that a person should not attempt to lose more than a single pound a week. This is doing it the right way, and it will give you a much better chance of keeping the lost weight from returning. With this idea in mind, you should reduce your weekly caloric objective by 3,500 calories, which is equivalent to a pound. This by the day, means reducing your average calorie intake by 500. Keep track of this with your diet and exercise tracker template.
This diet and exercise tracker will allow you to go even beyond simply keeping track of calories too. For each food you eat, you will be able to input the calories, sugar values, carbs and fiber values to understand your daily averages against what you ought to be taking in. All in all this diet and exercise tracker template is a great idea for anyone who is looking to get themselves back on the right track nutritionally. This free template is available for download here on this page, so your better body process can start right now.
Download: Diet and Exercise Tracker Template
X
Your free template will download in
5 seconds
.
Check this out while you wait!