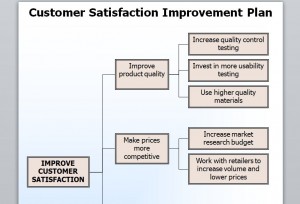 Help improve your customers' experience with this free and super-easy to use and customize Customer Satisfaction Template available right here on this page for download and use with Microsoft PowerPoint.
It should be every business's goal to make sure that the end consumer is satisfied with the product or service that the business provides. This template will help you communicate your strategies for improving Customer Satisfaction to your employees and give them a visual aid of what your method's main ideas are and what they are made up of.
This Customer Satisfaction Template provides a simple, professional, efficient and effective means to helping your employees or audience help you to build the ultimate customer experience. It's as easy as downloading right here for free and customizing it to help you create a better customer experience.
How to Use the Customer Satisfaction Template in Microsoft PowerPoint
First, use the large box on the farthest to the left to explain your main idea. This main idea should be along the lines of a direct goal such as "Improve Customer Satisfaction" or a more inviting rhetorical question such as "How can we improve Customer Satisfaction." It's as simple as clicking on the inside of the box and adding the text.
Second, move over to the middle boxes of the Customer Satisfaction Template and insert some sub-goals that directly affect the success of the main idea or goal you previously entered. These ideas can be along the lines of anything from "Improving Product Quality" or "Filling orders more efficiently" to "Having 24/7 Customer support available" and "Lowering Prices of our Goods/Services."
Finally, list some actions in the right-most boxes of the Customer Satisfaction Template that directly attribute to the completion of the sub-goals you just listed. For example, to the right of "Improving Product/Service Quality" you could list some things that help you do that such as "Increase quality evaluation frequency" or "Use higher quality materials for manufacturing."
Tips for Using the Customer Satisfaction Template
Having your Customer Satisfaction Template revealed in hierarchical steps can allow your audience or employees to input their own ideas as you ask what would otherwise be rhetorical questions through the template itself. For instance, by making your main idea interrogative you can ask aloud before your sub-goals are shown "How can we improve Customer Satisfaction?" Then asks for anyone with an idea as to how you can do that to raise their hand. This creates interaction which keeps an audiences interest better than anything else.
For further interaction, project this Customer Satisfaction Template onto a whiteboard and leave blank spaces for the best answer from your audience. A visual representation of their input on your presentation will help them to feel as though they are a valued part of the discussion.
Download: Customer Satisfaction Template
X
Your free template will download in
5 seconds
.
Check this out while you wait!