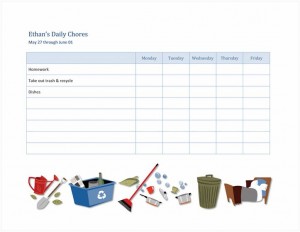 Organizing the kid's chores doesn't have to be a chore in itself. Keep your kids on task with this easy to use Chore Checklist for Kids. You can schedule homework, household chores and plan activities with this highly customizable Word template. Below are instructions and tips for using it.
How to Use the Chore Checklist for Kids Template
You can be creative with this Chore Checklist for Kids template and use it your own way. The template is simple to download and easy to use. You can customize the look with your own styles and preferences. Here's how to get started:
Download the template free on this page
Open the Template in MS Word
Customize the colors and fonts the way you like
Type the child's name and the week at the top
Type the chores or activities in the left hand column
Mark the days according to the schedule you want
Print it out and display it in a common area
As chores are completed, use a star system or similar to evaluate performance and place them on the days when the chore was scheduled and completed.
Tips on Using the Chore Checklist for Kids Template
Now that you have downloaded the Chore Checklist for Kids template you are going to want to start using it. There are many ways of implementing it into your children's daily routine. The template's simple design allows for lots of flexibility for customizing your own methods to help teach your kids about work and responsibility. Here are few tips to help you get started:
Make a separate checklist for each of your children
Hang a copy on the fridge so that it's easy to reference daily
When chores or activities are completed, mark the days columns with stickers such as stars to show how well they did each task.
Alternatively, you can also use the days column for times and scheduling
Review the checklist with your kids each week to help them improve their performance
Keep each week's checklist in a folder so you can show them their improvement over time
Have fun!
Download: Chore Checklist for Kids
X
Your free template will download in
5 seconds
.
Check this out while you wait!