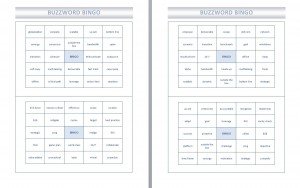 Are you always stuck in departmental meetings that frequently feature guest speakers? Maybe your organization is family oriented and loves to joke around. Here is a popular game that you and your co-workers can take with you to your next meeting. If nothing else, you will actually pay attention and get something out of the meeting by having your Buzzword Bingo Card with you.
In case you are not familiar, Buzzword Bingo is not your ordinary Bingo card game. This popular game geared towards using in meetings started in 1993. The entire concept with the words on the card is frequently used words when a speaker is talking and there are no relevant information being said or they are using filler words.
Participants will take the cards with them to the meeting. When they hear the word on the card they put a tickler on it. Once they hit the 5 in a row they have Bingo. The key is to yell out Bingo. Since there have been issues with doing so during important meetings, participants are now mouthing "Bingo" to each other instead of yelling it out.
How to Use the Buzzword Bingo Card
The Buzzword Bingo Card is a fun entertainment piece. This free Bingo card downloads from here. This is an easily customizable card in Word.
Download the Bingo card and open in Word.
The set contains a total of 3 pages of which there are 2 cards per page. These are your Buzzwords.
If you'd like to change the font to something more readable do so. A good font would be Times New Roman, font size 14, bold. This will help the word stand out clear in a dim lit room. You can also change the color to red to really stand out.
Print the documents out. The participants are able to have 1 card per game.
Tip for Using the Buzzword Bingo Card
Change the game up by adding words your department uses frequently. This creates an entirely new Buzzword Bingo card game.
This popular Buzzword Bingo Card template found here is sure to make any meeting the buzz of the town.
Download: Buzzword Bingo Card
X
Your free template will download in
5 seconds
.
Check this out while you wait!