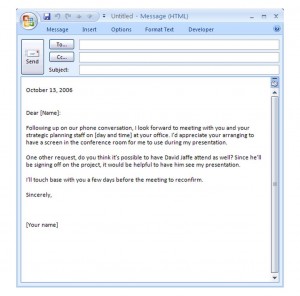 Easy to Use Business Email Template
In business, looking professional as possible is of the utmost importance. By using the fully customizable Microsoft Outlook Business Email Template available to download for free here, you will have a starting point for all of your important email correspondence.
How to Use the Business Email Template
After you download the Business Email Template, open the file on your computer. Microsoft Outlook will open the file and show you a sample message for you to work from. The first step is to fill in the email address of the recipient you wish to send the message to. A subject can then be added to give the reader an idea of what the message will be about. The first line of the message should be the current date. Next, you should replace the [Name] with the individual that the email is being sent to.
The body of the message can be changed to suit whatever message you wish to convey to the recipient. The final paragraph of the body should be a closing in which you tell the recipient how you wish to proceed in the future. [Your name] at the bottom should simply be changed to your name to close out the message.
Tips on Using the Business Email Template
This email template is just an idea of how a professional message should be set up. You should follow the basic structure of the email message and fill in the body with what information you are wishing to get across to the recipient. Proper grammar and punctuation is vital in conveying a professional message. So, whenever you can, run a spell check and proofread the message before you send it out.
After you have sent an email, there is no undo button. You cannot take it back and the message will be read as is. So, before you hit the send button, make sure you reread what you have typed to ensure that what you wanted to convey is going to be read by the recipient.
This Business Email Template available for download on this page is easy to use and fully customizable. Make all your emails look as professional as the company that you represent.
Download: Business Email Template
X
Your free template will download in
5 seconds
.
Check this out while you wait!