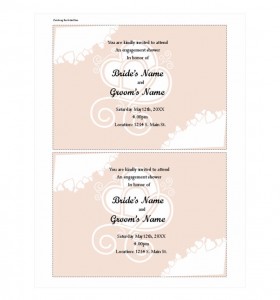 Bridal showers are a fun and traditional way to celebrate a bride's upcoming wedding. While there are a number of themes and venues that are appropriate for the party, all are announced with bridal shower invitations. Customized bridal shower invitations are the perfect way to let family and friends know about the bride-to-be's celebration. They not only provide important information for the shower, they also set the atmosphere for the party ahead.
Using a bridal shower invitation that can be customized allows for personalization so that the announcement is special, unique and gives guests an idea of what they can look forward to. After downloading the free bridal shower invitation template from this page and saving it to the computer, it is ready to be tailored for the party ahead.
Benefits of Using the Bridal Shower Invitations Template
They are completely free and ready to download from this page.
They are simple to use and easy to print, making them quick and convenient.
Fonts, styles and lettering size can be personalized.
They are free and fast. Printable shower invitations save money and time since a visit to the store isn't necessary.
They add a special touch that store-bought invitations can't create.
The template can be customized which allows the invitation to include personalized meetings and event information.
They are available anytime. At any time day or not, they are ready to use on any schedule.
They are efficient and save paper. There isn't a need to buy more invitations than will be used due to the quantity included in the box. The bridal shower template allows the precise number of needed invitations to be printed.
They are ready to be printed as soon as they are complete which means that they are ready for the mail immediately.
What to Include on the Bridal Shower Invitations
Name of the bride.
Date, time and location of the shower.
Driving directions and map.
Name of the shower hostess.
Name and contact information of the person to whom RSVP's and questions should be directed.
Gift registry information.
Type of dress required.
Any special shower themes that will be included at the party: kitchen party, '80's theme, all-pink party, etc.
Any other special information or instructions that may be needed.
Downloading free and customizable bridal shower invitations from this site is a great way start to any bridal shower. Since they are fast, printable and easy-to-use, they make preparing invitations convenient and fun!
Download: Bridal Shower Invitations
X
Your free template will download in
5 seconds
.
Check this out while you wait!