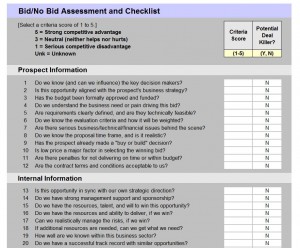 Operating a business takes organization, smart decisions and an excellent team of employees. Does your company rely on strategic bidding to obtain jobs? Our free downloadable Bid Assessment Checklist will organize your bidding activity in one easy to use spreadsheet. This spreadsheet is fully customizable to fit your specific business needs and easy to use.
Download our free Bid Assessment Checklist template and save a blank copy to your computer. Each time before you bid on a job, score the job and bid based on criteria listed in the spreadsheet and save under the potential job name. This simple process could save you from a bad business decision.
About the Bid Assessment Checklist Template
The first section contains information regarding your prospective bid. Information includes ratings on a realistic timeframe to complete the job, budget approval, and acceptable contract terms and conditions.
The second section of the spreadsheet weighs risks, labor needs, track records on similar jobs, and business resources available.
Market competition is covered in the third section of the Bid Assessment Checklist. Your knowledge of competitors, covered in this area, weigh heavily in deciding whether or not to bid. You will rate how winning the bid will affect future opportunities for you company and if winning the bid will provide you an advantage over the competition. Rate how winning this bid will affect your reputation in the industry; an important item to consider before bidding.
Bid Assessment Checklist Tips
Locate and open the template.
Save a copy using the job name or description of the bid; this will preserve the original blank copy for future use.
Starting from the top and working your way down; rate the job and bid by entering a score from 1-5 in the column labeled 'Criteria Score'.
Follow the same procedure for the column labeled 'Potential Deal Killer'
Total the columns at the bottom of the sheet.
The final step is to save your final figures.
Using this method saves you time and money; potentially earning you extra money by showing you on paper whether or not the job is worth bidding on. Bidding on a job that requires more labor and resources then your business has available could end up ruining the reputation you have worked hard to build.
Download our free Bid Assessment Checklist today and begin utilizing an important business tool immediately.
Download: Bid Assessment Checklist
X
Your free template will download in
5 seconds
.
Check this out while you wait!