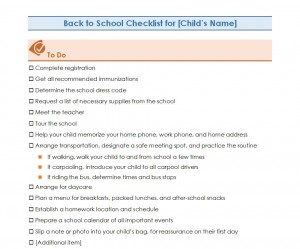 Getting your kids back to school can be a harrowing experience. There are often so many steps to perform, that it can seem impossible to know where to begin, and where to go next. Smart parents use a back to school checklist, to make sure they do everything they need to do.
This simple to use, completely free, back to school checklist template is designed to fit the needs of a wide variety of parents. It is also designed to be easily and completely customizable, and easy to understand and use.
How to use the Back to School Checklist Template Word Document
Here's how to use the Back to School Checklist template from Microsoft:
Download the template, and open it up in Microsoft Word, or another word processor program that can open "Word" documents. This template is available for free from this website, so there is no reason not to give it a try.
Delete "[Child's Name]" at the top of the template, and type in the actual name of your child. Repeat this process for each child in your house, to create personalized checklists.
Add or remove steps based on the needs of each of your children. For example, you may need to add "register for sports" for your sporty child. You can also change the graphics, to make them more fun for the younger kids. This customization helps make this template incredibly popular with parents and children.
Double check any customized fields for proper spelling, add a "contact information" section at the bottom of the template, and print them out. That's all there is to it.
Tips for Using the Back to School Checklist Template Word Document
As you checkoff steps from your back to school checklist, it might not be a bad idea to get contact information from school officials. Write this information down in the appropriate contact information section, and add all contact information to your own personalized "contact" list.
Add any additional steps to your back to school checklist that you deem necessary. This back to school checklist template has six "additional item" slots, that you can personalize for you and your child's needs. Don't be afraid to use them.
Run through this checklist with your children before school starts. This will help give them a guide for the process, and makes them feel like they have some control. Let them check off items as you finish, to help make it a more entertaining process for you, and your children.
Download: Back to School Checklist
X
Your free template will download in
5 seconds
.
Check this out while you wait!