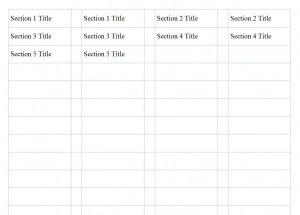 The Avery 5 Tab Template will help you to organize your tab dividers flawlessly. With the ability to customize, type, and print your divider headings; organizing your projects will be a breeze. Avery templates can be used for everything from school and business topics to personal budgets and miscellaneous folders, making details and specific documents easy to find for reference. Utilizing the template will make labeling your dividers, whatever your needs, easier, more uniform, more precise, and more professional than handwriting, and the templates are so simple to use!
How to Use the Avery 5 Tab Template
First, download the fully customizable template that is available for free on this page
Second, bring the blank template up in Microsoft Excel
Third, choose your customizable divider headings based on your project or need for organization
Fourth, enter your chosen headings into the easy to use template
Next, print your customized template headers onto the label paper previously loaded into your printer
Lastly, apply your labels to your dividers to provide the ultimate in simple organization for your entire project.
Helpful Tips for Using the Avery 5 Tab Template
Keep your headings simple and to the point
Use a font that is easy to read when flipping through quickly
Don't try to pack too much onto one tab heading
Make as many divider headings as you need to organize your work as precisely as you choose, don't feel that you have to pack it all into 5 sections.
Label both the front and back of your divider for easy reference and minimizing searching from either direction.
Review your work before printing your Avery 5 Tab Template
Remember, the Avery 5 Tab Template can be used for more than just business and school, take this opportunity to organize your personal budgets, lists, and life!
With the Avery 5 Tab Template, you can make searching aimlessly for important documents a thing of the past. You no longer have to feel unprofessional or disorganized when asked for a specific item, you'll know right where to turn to find it!
Download: Avery 5 Tab Template
X
Your free template will download in
5 seconds
.
Check this out while you wait!