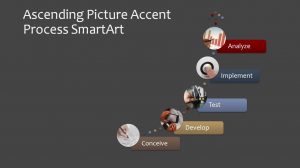 A wonderful new way to display your project for work, the free Ascending Picture Accent Process SmartArt is your way to shine.
The free template document comes with an organizational system that essentially directs the flow of your project into one cohesive and easy to understand overview.
If you've ever struggled to get your point across at work then you know the importance and value of this template. You've probably had great ideas before but the words seem to escape you. Let this template do the talking for you while you show your team what your ideas can do.
Get started today by download the free template directly to your computer and follow the instructions given below.
You can download the document by clicking the link at the bottom of this page.
You can start by clicking on the first slide and replacing the text and images to fit your own project.
The text can be changed simply by clicking the words and deleting the examples then writing your own material.
To change the image, you will just right-click on the picture and choose the "Change Picture" option. Pretty simple, right?
Now, go to your first slide in the "Slides" overview section to your left. Right-Click" and choose "New Slide" to add a new slide to your growing project presentation.
The new slide will be the same format and design as the one we have provided with you. You will start with the opening categories that you listed in the first slide and they should each lead to the next one you listed in the section above.
This will give your slides professional look and feel you want to impress coworkers and get your point across.
You can download the free template by clicking the link below. get started on your great ideas, download today!
X
Your free template will download in
5 seconds
.
Check this out while you wait!