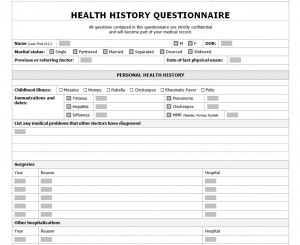 You can streamline operations at your doctor's office or healthcare facility with the new health history questionnaire template from Microsoft. This all-in-one template is available as a free download right here at TemplateHaven.com. Simply download, print and start using the health history questionnaire in your office today!
About the Health History Questionnaire
After you download the health history questionnaire by clicking the link located on this page, open the file in Microsoft Word. The health history questionnaire consists of four pages. Each page is easy to read, navigate and fill out.
As you review the health history questionnaire for the first time, remember that each section and page can be altered and customized to better suit the needs of your patients and health care facility.
Filling Out the Health History Questionnaire
Filling out the health history questionnaire is a simple and painless process. The top of the first page of the questionnaire is reserved for general patient information, such as their name, sex, date of birth, and marital status.
The next section of the health history questionnaire is for a patient's personal health history. This is where a patient will document all of their childhood illnesses, immunizations and dates, medical problems other doctors have diagnosed, surgeries, and other hospitalizations. This section of the health history questionnaire also provides space for patients to list all the prescribed drugs, vitamins, and OTC medications they may take, as well as any allergies to medications they may have.
The next portion of the health history questionnaire is titled "Health Habits and Personal Safety". It's important to remind patients that all questions contained in this portion are optional and will be kept confidential. Here, you will ask the patient about the following:
Exercise Frequency
Dieting Habits
Caffeine Intake
Alcohol Intake
Tobacco Use
Drug Use
Sexual Activity
Personal Safety
Once this portion is completed, the patient can move on to the family health history section of the health history questionnaire. Here, a patient will detail the health history of their parents, grandparents, siblings and children.
The questionnaire continues with the mental health section. A patient will answer yes or no to questions such as "Do you feel depressed" and "Is stress a major problem for you"?
After a series of gender specific questions, the patient will complete the health history questionnaire by listing any other health problems they may have experienced or are currently experiencing.
Download: Health History Questionnaire
X
Your free template will download in
5 seconds
.
Check this out while you wait!