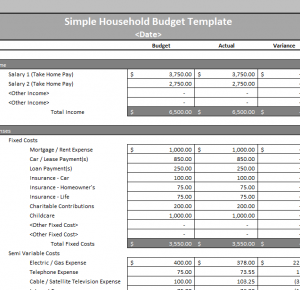 Are you tired of ridiculous add-ons and ads that make creating a budget sheet impossible? The Simple Household Budget Template is the best tool to write down your income and expenses and receive helpful data to monitor and analyze your financial information. With a simple design and easily customized format, you can quickly edit the pre-existing information and make this document truly your own! No more add-ons and no more worry. This document is the perfect complement to anyone that knows what they need and wants to get down to business!
How to Use the Simple Household Budget Template
Start in the income table and enter your various forms of income that go into your monthly Household Budget. You can rename any descriptions for better organization. Simply click the cell you want to change and enter your new piece of information.
The rest of the document simply gives you a place to enter your expenses. The template conveniently breaks up the different types of expenses into separate categories. First enter the fixed costs, semi-variable costs, and highly variable costs into the appropriate cells.
Each section has a total calculator at the bottom, highlighted in gray. After you enter all the information, you will receive a complete total at the bottom of the page. The template will automatically take your net income and your net expenses and give you a complete account of your monthly expenses.
An overview of all this information will be provided at the very bottom of the screen, highlighted in gray. This section will include the total variable costs, total expenses, and net income.
Once everything has been completed, you can easily print the document by pressing "File" at the top of the page and selecting "print" from the drop-down menu.
Plan the perfect home budget using this simple template!
Top 3 Features of the Simple Household Budget Template
Simple format makes customization a breeze
Calculates totals instantly
All your finances are on one page
Download: Simple Household Budget Template
X
Your free template will download in
5 seconds
.
Check this out while you wait!