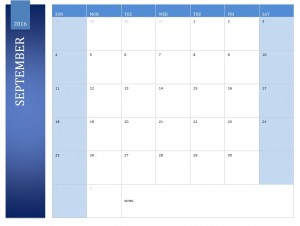 The arrival of September means that it is time to go out into the fields and backyards and harvest the rewards of spring and summer time labors. Anything planted during the warm seasons will have a specific time it needs to be pulled out of the ground. Miss that date and you risk your produce becoming over-ripe and no good. This nifty September 2016 Calendar can help you remember exactly when the picking needs to be done to ensure a wonderful Harvest. Download it for free today!
Complete Your September 2016 Calendar With These Dates
Here are some dates and observances you may want to add to your September 2016 calendar:
September 1st
September 5th
Labor Day
International Day of Charity
September 8th
International Literacy Day
September 9th
September 10th
Carl Garner Federal Lands Cleanup Day
World Suicide Prevention Day
September 11th
Patriot Day
National Grandparents Day
September 12th
International South-South Cooperation Day
International Programmers' Day
September 13th
September 15th
International Day of Democracy
September 16th
'Constitution Day and Citizenship Day' observed
World Ozone Layer Day
National POW/MIA Recognition Day
Full Moon
September 17th
Constitution Day and Citizenship Day
September 19th
International Talk Like a Pirate Day
September 21st
International Day of Peace
September 22nd
Emancipation Day (Ohio)
World Maritime Day
September Equinox
September 23rd
International Celebrate Bisexuality Day
Native Americans' Day (California, Washington)
Third Quarter Moon
September 25th
Gold Star Mother's Day
World Heart Day
September 27th
September 28th
September 30th
Reap the benefits of downloading a free September 2016 Calendar today and let the labor of tracking dates be one less concern for you. Download and print the September 2016 calendar instantly for free today courtesy of TemplateHaven.com!
Download: September 2016 Calendar
X
Your free template will download in
5 seconds
.
Check this out while you wait!