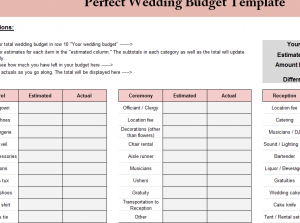 The Perfect Wedding Budget Template is a great tool for analyzing your finances before your special day. You want everything to go perfectly, so the Budget Template allows you to carefully organize each aspect of your ceremony and compare your estimated budget with the actual cost of expenses. Having this knowledge ahead of time will give you a way to make your budget work for you, bringing out only the best elements of your wedding. Plan the perfect wedding with this simple and free Budget Template!
Perfect Wedding Budget Template Guide
Start by downloading the free file located at the bottom of this page!
The template will come with a handy set of instructions at the top of the page. The instructions will have you enter your ideal wedding budget in the top right-hand corner of the document.
The next step is to go through the categories and various items listed under the categories, then enter your expected budget for each item. Many of the items listed are commonly associated with weddings, but you can add or delete an item simply by clicking inside the cell and pressing "Backspace" or entering something new.
Each category table also includes a calculator at the bottom, highlighted in blue. This template adds the totals of each item you enter in a table and conveniently gives you the combined cost.
When all the items have been entered into each table, scroll back to the top of your page. You'll notice that in the gray box, where you entered your overall budget, all the totals from each table have been calculated for you.
By the end of the process, you'll have the total expected budget, estimated expenses, the amount left in your budget, and the difference between your estimate and the amount actually spent. This is a fast and free way to organize your perfect wedding day!
Top 3 Features of the Perfect Wedding Budget Template
Calculates totals automatically
Everything is conveniently located on one page
Provides plenty of examples to get you started
Download: Perfect Wedding Budget Template
X
Your free template will download in
5 seconds
.
Check this out while you wait!