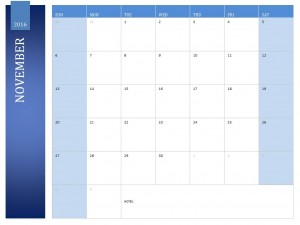 Events in your busy business and personal life can be extremely difficult to manage and keep track of. There are many ways to stay organized, but a calendar is one of the most time tested and simplest methods to keep your life in balance and on schedule. Get a November 2016 calendar to manage your hectic life and take control of your valuable time. A calendar will reduce unnecessary stress and put you in control of your life instead of your life controlling you.
November 2016 Calendar: Business or Work Use
Take control of your work or business schedule with the November 2016 calendar. Keeping track of your business appointments or work meetings is much simpler when using one source to document information. Scheduling and planning for changes due to end of daylight savings time is one example of a task which is made much easier when using a calendar to document information.
A calendar is wonderful and useful tool to maximize efficiency and utilize time effectively in your business or work life. Taking control of your time will improve your efficiency and increase your productivity.
November 2016 Calendar: Home or Personal Use
Planning around that family Thanksgiving day dinner or the annual Veteran's Day parade is always simpler with a November 2016 Calendar. Juggling the hectic holiday schedule and keeping track of your busy family get-togethers or trips make your calendar an invaluable asset to help simplify and improve the quality of your home life. The holidays always bring added pressure and family commitments and the calendar is a wonderful tool to allow you to reduce or eliminate much of this pressure.
Free yourself of too much stress at home or work by using a calendar to manage your busy life and take control of your time.
Download: November 2016 Calendar
X
Your free template will download in
5 seconds
.
Check this out while you wait!