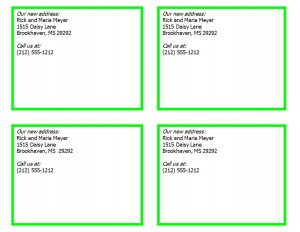 Moving can be such a hassle–from the packing of the truck to the listing of the house or notification of the end of the lease. After all the moving is done, or just a little before, there is that exhausting detail of how to give your new address to friends, family and co-workers. Email is a great way to do this, but it often gets lost in all the daily shuffle of spam and friendly tidings. Now there is a solution: an easy to use template for making your own address cards, New Address Cards, which you can send out at any point in the moving process.
Using the New Address Cards Template
It may seem that buying cards is a better idea, but the template is super easy to use and New Address Cards therefore offer less hassle than printing labels or filling them out by hand. The template helps you to create cards that are 4.25 by 5.5″–otherwise known as A2 size. These are compatible with Avery 3263, Avery 3380, Avery 5689, Avery 8383, and Avery 8387. To create New Address Cards, all you have to do is to click on the link. It's easy to type in your name, address, and phone number once you do.
New Address cards are a great way to save money, cut time, and create something that friends, family, and coworkers really enjoy receiving in the mail. When people move, it can create stress in everyone until the day arrives and the move is complete. All kinds of things can go wrong, and accidents are even more likely to occur during times like these. New Address Cards are a wonderful way to make everyone feel at total ease about the move and relieve the burden of having to call family, friends, and coworkers and waiting while they retrieve their address books.
The New Address Cards template is available for free, is easy to download, and is a great solution to help make a stressful event much less so. The template can be simply called up via web, and is a click of a button away. It also takes up little space on the hard drive and is Windows-based.
Download: New Address Cards
X
Your free template will download in
5 seconds
.
Check this out while you wait!