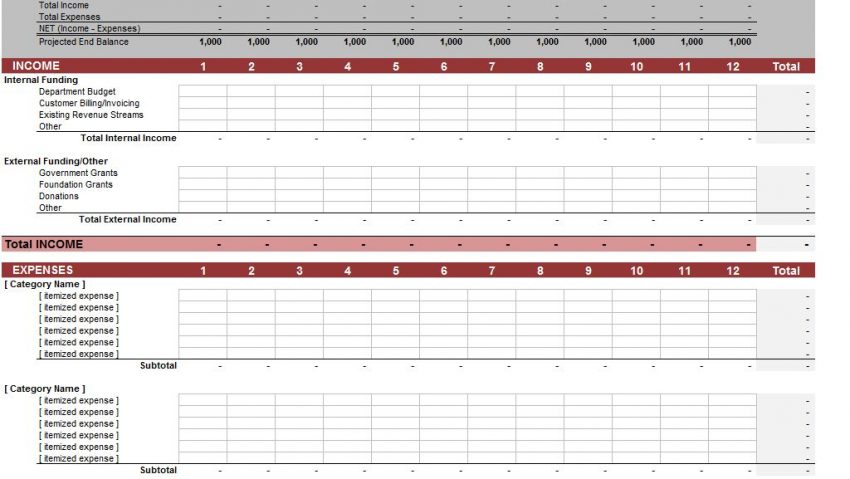 Keeping a budget is the easiest and most efficient way to save money. Whether you're a business or an individual, many people are astounded at the sheer amount of money they waste on a day-to-day basis. This amount can really add up, especially for businesses. The free Monthly Project Budget template is best suited for any business and can even break down your expenses by department. All your finances are displayed for you on one page. No more frustration on wasted time and energy. You can save yourself hours of your valuable time and money on any expensive software you were going to buy. Download the free project budget today to quickly dive into any plan quickly and with confidence.
How to Use the Monthly Project Budget
The first step to attaining the free Project Budget template is to click the link at the bottom of your screen to download the template file.
Once you have the document, simply click the file to open the Excel template. You'll see at the top of your screen there is a summary table that shows your starting balance of your budget over the course of 12 weeks.
Below, you will be able to enter the various information (Income and Expenses), in the respective tables that attribute to your project as a whole. You can also change any of the categories or items within categories to better suit your project.
Once you have listed all the income and expense items into the tables, scroll back to the top of the page. You can see in the summary table, mentioned earlier, that all these items have been calculated and compared to your budget. The budget sheet has even calculated your net income and projected end balance for you.
If you want to finally start planning projects efficiently and spending only on necessary items, then download the free template today.
Download: Monthly Project Budget
X
Your free template will download in
5 seconds
.
Check this out while you wait!