You might have asked yourself the question, "How do I get the DEVELOPER tab to display in the toolbar at the top of the screen?" This is a great tool that people can use to get the most out of their Excel program. Most people don't have access to certain tools, like enabling macros that automate your work. The way you get started is by first enabling your developer tools in Microsoft Excel. If you follow the simple set of instructions below, you can learn how to do this in just a few simple steps.
If you're wondering even what the DEVELOPER tab is, you should know it's just a toolbar that has the buttons to open the VBA editor and create Form/ActiveX Controls like buttons, checkboxes, and so much more.
First, to display the DEVELOPER tab, you need to scroll to the top of the page and click on the File menu and then select Options from the drop-down menu that will appear.
When the Excel Options window first appears, you can click on the "Customize Ribbon" option on the left. Next, you'll need to click on the Developer checkbox that is listed under the Main Tabs to the right. Finally, just click on the OK button when you're ready to get rolling.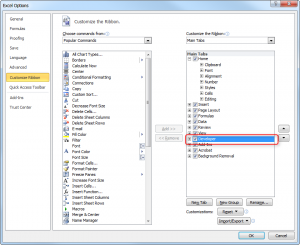 After you click the button, you should see the DEVELOPER tab in the toolbar at the top of the screen. All of the DEVELOPER tab option groups should be ready and waiting for you to use.
Now that you have the Developer tools open and ready to go, you can start using Excel to its full potential. You can get started today simply by following these instructions to start improving your productivity at work or for your own personal hobbies.
X
Your free template will download in
5 seconds
.
Check this out while you wait!