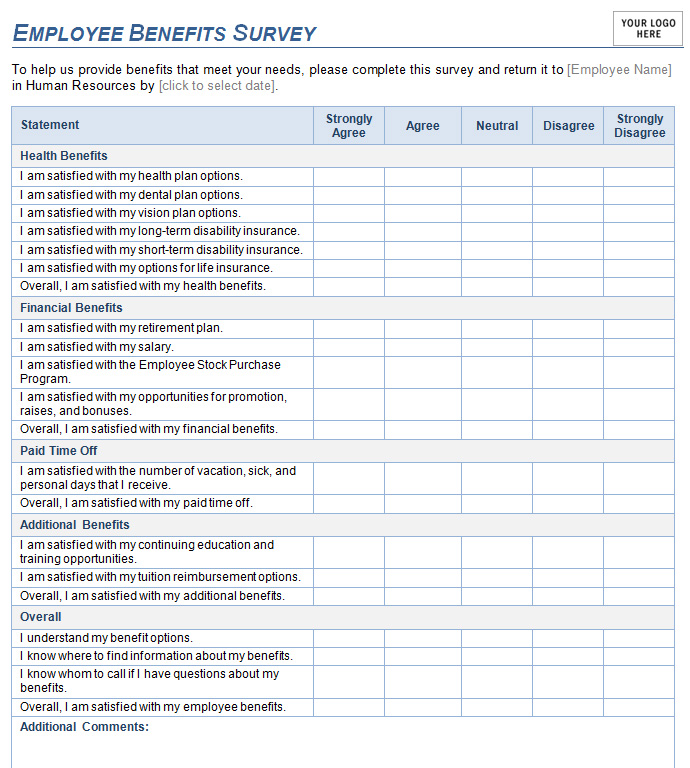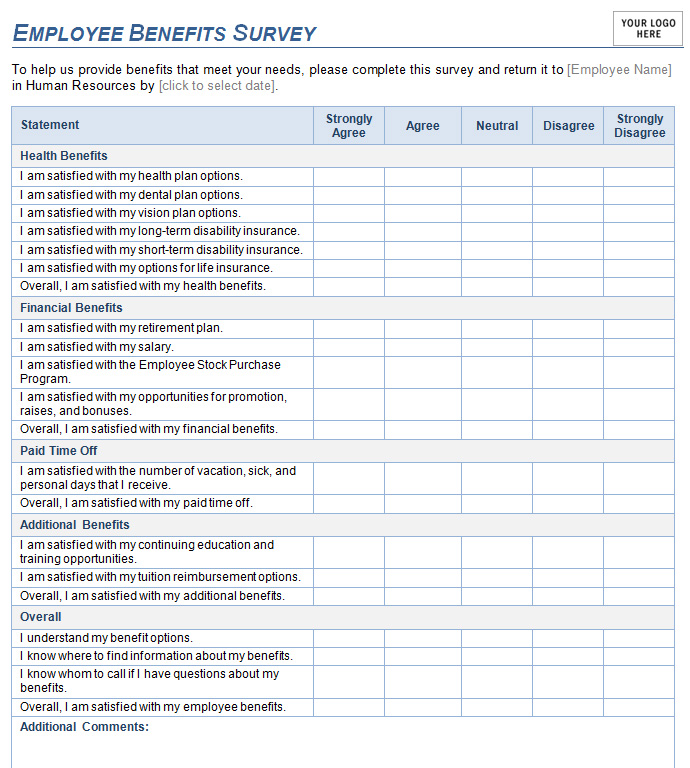 The focal point of employee relations for companies has traditionally thought to have been monetarily based. One factor some companies haven't taken into account is the satisfaction of the employees that make up their company. As a business owner and employer, you know that you should share a feeling of fulfillment and job satisfaction with your employees. With the Employee Benefits Survey, business owners can get feedback from employees about topics relating to job satisfaction.
About the Employee Benefits Survey
Employees are the foundation of a successful company. Without them, a business can crumble to the ground. Modern day businesses know this to be true and capitalize on it.  If you believe these statements, then you need to make sure that your employees are happy and satisfied with their benefits. The employee benefits survey template will determine your employees' views on a multitude of company topics such as your company's practices, their co-workers, partners, and work environment. It also establishes their personal opinion about their salaries and benefits. The use of the employee benefits survey is a fantastic way to increase profit without increasing production.
In the case an employee asks for a raise and you won't negotiate, there's a good chance your employee will start looking for greener pastures. If a quality employee acknowledges his/her worth within the company after completing a valued project, they may ask for advancement within the company. You may not think of it now, but ignoring these requests outright will negatively affect the employee and possibly the future work of that employee within your company. The employee survey benefits template will assess these types of circumstances, accumulating feedback and views about health insurance, paid time off, salary, and other benefits.
The Employee Benefits Survey Will Save You Money
With this template, you can easily save money in the long run by realizing what employees need. In addition, you will learn modern trends of the companies in your industry as well as refine your negotiating skills. Instead of hiring someone to conduct employee reviews, use our inventive Employee Benefits Survey.
Download: Employee Benefits Survey
X
Your free template will download in
5 seconds
.
Check this out while you wait!