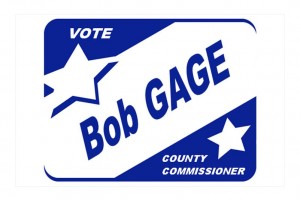 Election season is one of the most important times of the year for many Americans. And it is during this season that people that feel strongly about a candidate or an issue start to make their feelings known by putting up lawn or window signs to support the person or cause that they are committed to. If you are a national candidate or cause, some of your fundraising often goes to help pay for lawn or window signs in people's yards, cars, and houses. If you are a local candidate or a local issue supporter, the Election Sign Template for Microsoft Word provides you with two great ways of allowing people to show their support.
The first way it can help you is to provide you with a clear and strong design for you to add your details to so that it can be printed and copies can be made to send out to supporters. The second way it can help you is to serve as a finished document that can be e-mailed to supporters or embedded on your website so that they can download it and print it themselves whenever they want to. Easily customized, the Election Sign Template for Microsoft Word can be downloaded for free from this page.
How to Use the Election Sign Template Word Document
Open the template and enter the candidate or cause information in the center space. Add the office that is being sought down below or more information on what the ballot measure is about.
Use print preview to verify the size of the document. If you will be using Avery removable decal products 22800 or 53212 to print to, ensure that you select the correct type.
If you plan to print to paper or other output, you can re-size the print properties and then view the potential output again in the Print Preview window.
Tips for Using the Election Sign Template Word Document
The color can be easily customized by right-clicking on the background and selecting the properties option, and then selecting the color that you like.
If you would like to change the font used in the template, you can do so by selecting the text and choosing properties.
Download: Election Sign Template
X
Your free template will download in
5 seconds
.
Check this out while you wait!