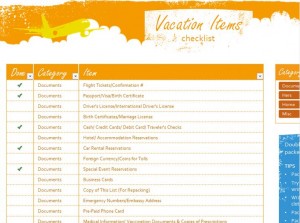 Creativity is in the eye of the beholder. As cases from new gadgets show, no matter how wonderful new is, it will only be useful as long as people get to know its value. Only few tools and software succeed because they are objectively superior and easy to use than others, not because they are sold better.
About the Beach Vacation Checklist Template
The usual pen and notebook way of planning your beach vacation is too much of a hassle. Not only that, with notebook you are more likely to lose it before you even take that trip. Take a look at this – The Beach Vacation Checklist template. Now, you will be able to make a list of items and things to do on your vacation with ease, store it and forget it. Next time when you intend to review the checklist, open it from your personal computer anywhere in the world. It's that easy. The Beach Vacation Checklist template allows you to access your favorite reminder with a click of a mouse.
Most software shouts out what you are supposed to do when you set them. But the Beach Vacation Checklist template never makes that annoying call in the middle of the night. This is exactly what users on vacation need – a silent checklist that can be assessed without any trouble. Efficient software like this template equates to moving from pen and notebook to a system without missing anything on the way and the Beach Vacation Checklist template is just that.
Downloading the Beach Vacation Checklist
The Beach Vacation Checklist template is easy to obtain. Just download the template from this page and follow your system instructions. Run directly from the server or store it into your machine for later use. Either way you get to access to all the incredible features this template offers. Enter your items on the itinerary one by one and double click on the column that says "done" when you want to check off the items that are completed. To clear the items, simply click on check marks. Store it in a desired location, offline or online, or make it available through an icon on the desktop.
Download: Beach Vacation Checklist
X
Your free template will download in
5 seconds
.
Check this out while you wait!