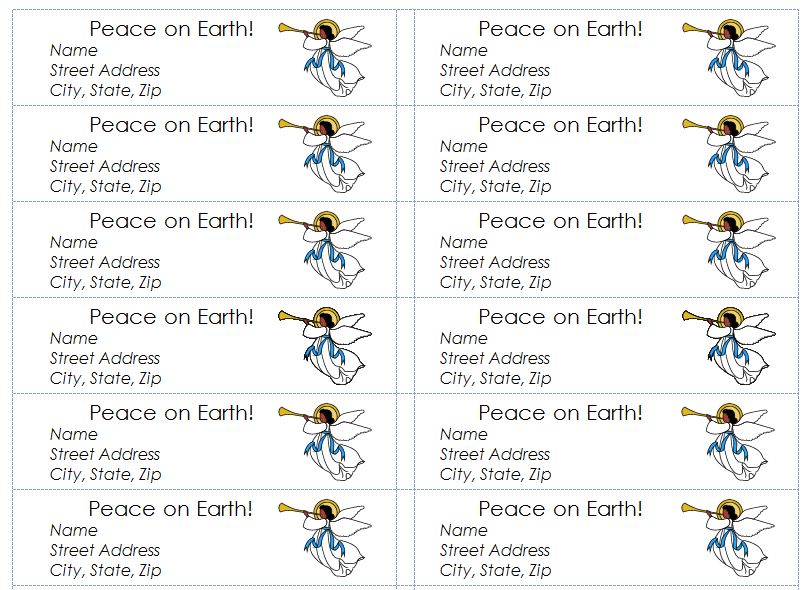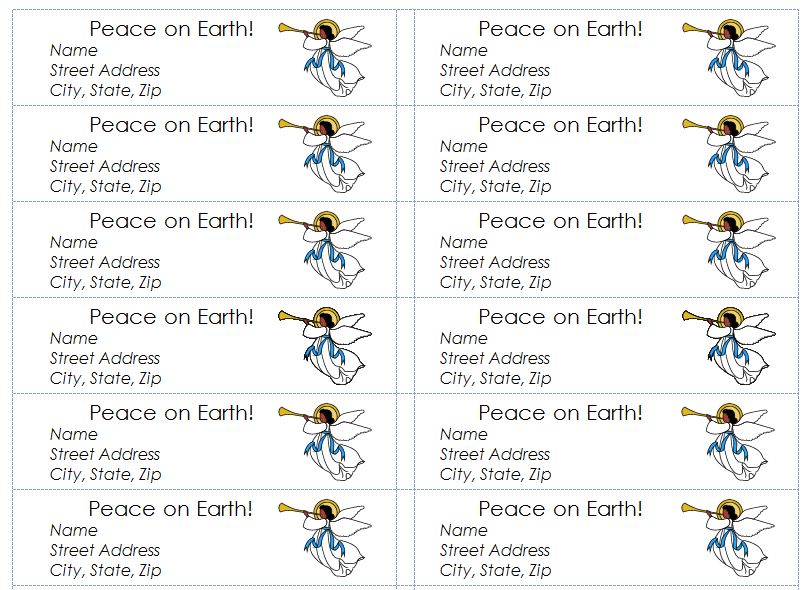 There are many occasions where the use of a customized address label could be the answers to your mass mailing issue of writing by hand your return address on every envelope. With the use of the Avery 5161 Template of free downloadable and customizable address labels, you can solve this problem quickly and easily. This page is available to you right here and right now.
This template is completely free and you can customize the template to your needs. Using this template is quick and easy to create a one-of-a-kind label. This label template comes with a tasteful image of a trumpeting angel. You now have the ability to send out your holiday greeting cards with added ease with the use of the Avery 5161 Template for customized address labels by following these simple instructions.
How to Use the Avery 5161 Template
Download the Avery 5161 template for free off of this page.
Fill in your name, address, city, state, and zip code on to the first label.
Copy and paste your name and address on to the other labels on the page. Save this copy to your computer when you are done. Print out your completed sheet of labels.
Tips for Using the Avery 5161 Template
After completing the first full sheet of address labels, save this page to a file on your computer for future use. Label it for easy recognition.
Use other Avery templates located at the bottom of the page to create a flowing themed stationery look.
It is a good idea to periodically click on the save button when working so that you are not loosing valuable data in case of an internet or electrical interruption.
The use of the Avery 5161 Template will make addressing your letters a breeze. It's complete with the tasteful design of the trumpeting angel. Used with the other Avery templates that are available, you can create completely free customized professional address labels. You can download right here along with corresponding templates for all of your correspondence needs.
Download: Avery 5161 Template
Here at Templatehaven.com we do not sell any type of Avery® branded product. "Avery ®"" in addition to any other Avery-branded product names & SKU trademarks are property of Avery Dennison Corporation.  None of the content and/or templates on Templatehaven.com are sponsored nor endorsed by Avery Dennison.
X
Your free template will download in
5 seconds
.
Check this out while you wait!