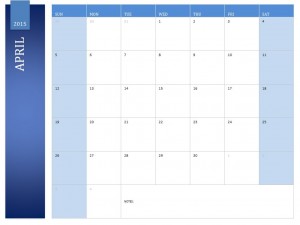 Our online free Microsoft Excel April 2015 calendar template can be downloaded and then customized to each user's satisfaction. The file is then printable. This is a simple tool we provide our web site visitors which can save them the expense of buying a calendar and help them to organize the month.
Features and Uses for the April 2015 Calendar
The April 2015 calendar has 30 days which are boxed and numbered according to standard practice. The spaces are large so you can put lots of information in them. There is a zoom in and zoom out capability which allows you to benefit from both monthly overviews and detailed looks at each week or day. You can add information to any cell simply by clicking on in and beginning to type. There is also the option of color coding days for easy reference. Any color can be used.
One can opt for the Sunday-initial or the Monday-initial week flow arrangement. Many at-work or for-work users may prefer the Monday option, and so it is provided. Those wishing to do something special for their boss may wish to enter Wednesday the 23rd of April as Administrative Professionals' Day.
The calendar is an excellent tool for planning and organizing the month of April. Holidays, anniversaries, birthdays, work and off-work days, travel and vacation days, etc. can all be put on the calendar. Knowing your future plans and having them before you at a glance when desired will ease stress. A great way to remind yourself of important bill due dates and work or project deadlines is to use a single-page monthly calendar such as this one. You can balance your work and personal life by seeing how much time is allotted to each.
Special Days and Observances on the April 2015 Calendar
Don't let others take you by surprise and "fool" you on April 1st- type it into your April 2015 calendar! Holy week is in April: Sunday the 13th is Palm Sunday, the following Monday Passover (at sundown), Good Friday is on the 18th, and Easter is Sunday the 20th. you can plan any church or Holy Week activities on your monthly calendar.
Download: April 2015 Calendar
X
Your free template will download in
5 seconds
.
Check this out while you wait!